Kenya Moore enjoyed a day at the beach with her daughter Brooklyn Daly this past weekend. The outing took place amid the Real Housewives of Atlanta (RHOA) star's custody battle with her ex Marc Daly.
"Go with me and I will never lead you in the wrong direction," wrote Kenya under the series of pictures shared on Instagram. The RHOA star was photographed alone while walking. Kenya and Brooklyn were walking the boardwalk in two other pictures.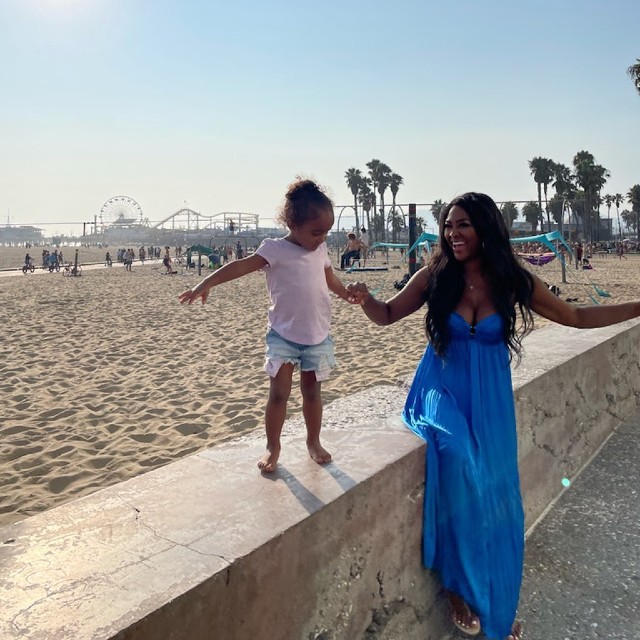 It has been a few weeks since news went public that Kenya Moore is planning to divorce her husband Marc Daly. The RHOA reportedly filed for dissolution of the marriage in June, despite Kenya and Marc having been separated for about two years.
Kenya applied for custody of her and Marc's daughter. The RHOA star's estranged husband, in turn, accused her of having a custody battle against him over a plot for the upcoming season of The Real Housewives of Atlanta.
Marc Daly has made it clear through his actions that he is not a fan of the limelight that reality TV brings with it. It took almost a full season and several allegations that Kenya was lying about being married before Marc made a brief appearance on season 10 of RHOA. The restaurateur left the set during season 13 of the reality series after things turned negative at his charity event.
Kenya Moore was surprised at the news of Marc's plans to divorce her after the charity fiasco. Many fans encouraged her to go through with the divorce. However, Kenya expressed a desire to try everything to make their marriage work before it gave up.
"I'm a girl who always knows what I want and to be placed in a position where it's like you've moved on and now think that maybe I'm doing the right thing," Moore asked during an interview with Entertainment Tonight (ET). "Should I give this person another chance," the RHOA star asked. "Not just for the sake of a child, because I don't think one should stay together for the sake of a child, but … the sanctity of marriage is important to me and these vows are important to me."
Photo: Kenya Moore / Instagram

Post views:
430