The St. Croix County Government Center had a solid stream of people entering between 8-8:30 am on Tuesday, Dec. 6. They all headed straight for room 1284 — the county board room.
An overflow room was set up for the remaining attendees, as the board room held about 16 seats for visitors, though a few folks lined the walls, readying to make public comments.
Supervisor Mark Carlson requested a reaffirmation of the commitment to the US and Wisconsin constitutions, however the resolution was specific in quoting the Second Amendment and the right to bear arms.
The resolution read:
The St Croix County Board of Supervisors supports the Constitution of the United States as the Supreme Law of our Nation; and whereas the Second Amendment of the Constitution of the United States provides that 'the right of the people to keep and bear Arms, shall not be infringed' and the Constitution of the State of Wisconsin provides that, "The people have the right to keep and bear arms for security, defense, hunting recreation or any other lawful purpose…" Now therefore be it resolved that the St Croix County Board of Supervisors will uphold its oath to support the Federal and State Constitutions and to preserve rights explicitly provided therein.
As people began to speak, Carlson began to take notes, paying close attention to each speaker.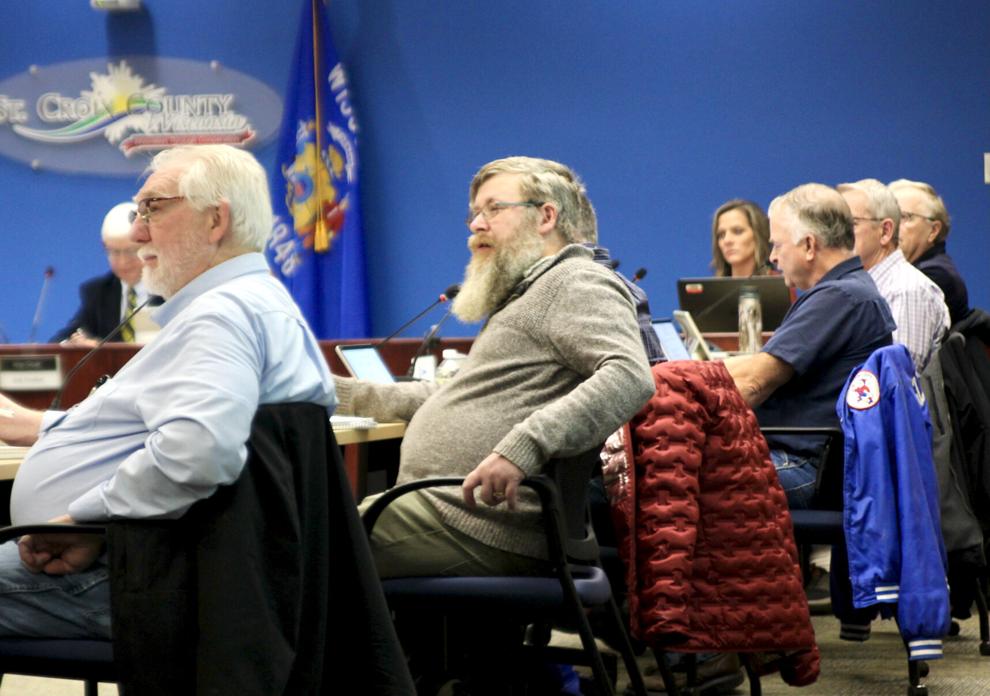 Supervisor Mark Carlson listened as numerous people spoke on his proposed resolution.
Redundancy seemed to be a common theme among speakers against voting on this – to vote on an amendment that each supervisor took an oath to uphold when elected to the board.
About 15 residents of the county brought forward comments on the issue at hand, about five of whom were in support of passing it.
"This isn't about the second amendment, it's about all our rights," one speaker said. His comments for fear of losing gun rights, and other liberties, were echoed by a few others who took the podium.
Many recreational gun owners and hunters spoke against taking up a vote on this matter and voting yes. Two young students, gun owners and self-identified Second Amendment supporters opposed this resolution.
One, very eloquently, described a concern for a further political wedge being unnecessarily driven between supervisors and residents, as well as making it more difficult to solve "actual issues." The other expressed grave concern for the future of gun legislation that protects students in school settings, such as himself.
Sarah Yacoub, previous candidate for district 30 representative, spoke in staunch opposition to the resolution. More crime equals more money, which taxpayers may be asked to consider, as a referendum to support public safety funding through higher taxes is ahead of them.
"This is the opposite of public safety," Yacoub said.
Supervisors seemed to be split on what they wanted to do with the resolution.
"It just creates division," Supervisor Cathy Leaf said. She put forth an amendment to remove the direct reference to the Second Amendment and pass a reaffirmation of the remaining statement, which was an overarching support of the constitutions.
That vote was tied and ultimately failed.
"The constitution is under attack," Supervisor Lisa Lind said during a monologue in support of the statement. She was in desperate support of the proposal from Carlson. He shared that he had numerous people reach out to him in fears of "rights being under attack."
Part of it, Carlson told the Star Observer, is to reassure the people that their rights are being protected.
"Part of it is to let the sheriff know that if he needs to do what he needs to do that we also back him, because he is ultimately our constitutional officer of the county," Carlson said.
It finally came to a head when the supervisors voted to send the proposal back to the Public Protection and Judiciary Committee for review. All present parties voted in favor of sending it back, other than Vice Chair Bob Fiedler and Chair Bob Long.
"Symbolic" resolutions have no impact on citizens, Long said.
"I would respectfully ask that you consider not bringing any further symbolic resolution to the board. And otherwise, Merry Christmas," he said as he closed the meeting.
Carlson hopes to see the resolution brought back for further discussion.
Read the full story on hudsonstarobserver.com.
St. Croix County identified a need for additional public safety personnel as one of the fastest growing counties in Wisconsin, due to funding capacity. The state limits the amount of property taxes a municipality can collect each year, so in order to collect more, the county needs voter approval through a county-wide referendum.
The question would ask voters in April whether or not they support an increase in the county annual tax levy to cover the costs for eight sheriff deputies; four correction deputies; three investigators; two pre-trial case managers; two support staff; two deputy clerks of courts; one "Child in Need of Protection and/or Services" attorney; and two co-responders.
Since 2006, the county population has grown by 19 percent. Calls for service to the sheriff's office have increased by 25 percent and has responded to over 20,000 more calls for service
annually than it did in 2006.
All of which has been done while staffing levels have remained unchanged.
Board concerns were raised about timing on the referendum and even with supervisor support, would there be enough widespread support for it to pass? The other question what are all of these additional supports needed or can we manage with fewer?
Supervisor Rick Ottino, who is a self-proclaimed anti-tax person, vocalized his support for putting this up to referendum for public safety. "I think it is imperative with the growth of the community," he said. "I may put signs up on supporting it on my Bronco."
The board voted in favor of moving to a referendum. Supervisor Paul Berning abstained from voting.
Part of the public safety plan for the referendum is to include additional support from the district attorney's office as the number of felony cases have increased by 54 percent since 2006. The additional support staff and addition of an attorney to handle "Child in Need of Protection and/or Services" cases will help the state-funded attorneys in the district attorney's office focus on the increasing complexity of criminal felony cases.
Beyond the public safety sector, it's been a tough few years hiring assistant district attorney's. District Attorney Karl Anderson expressed concerns to the county board of supervisors and his challenges in retaining these state employees at a previous meeting.
The last seven assistant district attorney hires in the last three years were not approved by the state to hire above the minimum salary. Every attorney that left the office exclusively cited excessive workload and low pay as reasons for leaving the positions.
In 1989, St. Croix County had five state prosecutors with the 1990 census finding a county population of about 50,000. The county now has 96,000 people.
Three years ago, the Wisconsin Department of Administration's report indicated that St. Croix County should have 10.6 full time state prosecutors. The county has six attorneys today. Two additional positions have gone unfilled for months.
One of the greatest barriers to retaining assistant district attorney employees is that Minnesota has a much higher going rate, between $100,000 and $115,000.
The starting salary of an assistant district attorney in Wisconsin now is $54,000, with a median salary of $64,000, and around $100,000 of student loan debt.
It doesn't take a rocket scientist to know that is about half of what a Minnesota assistant district attorney could make.
On Tuesday, Dec. 6, the board approved a request to encourage a change in the trends.
They will request that the state review and revise the entry level compensation rate for assistant district attorneys in order to remain competitive.
Deja vu – staff is reporting that state funding for the county isn't enough.
St. Croix County administers the Child Support Enforcement Program on behalf of the state, providing a holistic set of services to children and their parents in the county. This includes paternity establishment, assistance with finding employment, obtaining child support and establishing health insurance orders for children.
Funding for child support services has failed to keep up with county agency costs, which have steadily increased due to a high number of caseloads per worker, increased complexity of cases, inflation and new regulations. Additionally, there was an abrupt federal interpretation change in June 2019 that eliminated $4.2 million in federal birth cost recovery matching funds for Wisconsin.
"Wisconsin's strong performance in child support is at risk without additional funding. The state has already dropped from second in the nation for the collection of current support in 2016 to sixth in the nation in 2021," states the memorandum.
State investments in child support are amplified by a federal matching program that generates roughly $2 for every $1 from the state.
"Child support is one of the most effective anti-poverty programs in the state, with county child support agencies serving approximately 347,000 children and collecting roughly $906 million in financial support for Wisconsin families in 2021," states a memorandum from County Administrator Ken Witt and Child Support Administrator and Child Support Lisa Plunkett. "Child support is proven to reduce childhood poverty rates, lead to better educational and behavioral outcomes for children and have a positive effect on food security, health and housing stability."
The board approved a request to the state that funding for county child support agencies be increased by $5 million in each fiscal year of the 2023-25 ​​Wisconsin state budget, which would generate approximately $9.7 million in additional federal funding each year. All voted in favor except Lind, who voted no.
Federated public library systems are governed by state statute and the Inspiring and Facilitating Library Success. The Library System Board of Trustees is composed of 20 members appointed from the ten member counties, including St. Croix. The county appoints three members to rotating three year terms, one of which may be a county supervisor. Mary Ellen Brue was reappointed by the board of supervisors to represent the county alongside Michael Schendel and Judy Achterhof.

The Regional Business Fund, Inc., is a non-profit economic development corporation whose purpose is to promote business and economic development in west central Wisconsin. Seven counties appoint one member to the board of directors. Dale Jorgenson stepped down from his representation on the board and the county supervisors appointed Marina Onken to replace him. Onken is professor emeritus of strategy and innovation from the University of Wisconsin – River Falls and a Hudson resident.

Chad Wolske was recognized for his 2022 Wisconsin Child Support Enforcement Association member of the year award.