The story of Lucy Wangui Wairimu is a sensitive one after the young woman was denied custody of her five and a half year old son because she claims to be mentally ill.
On December 25th, she shared her story online, which immediately went viral and caused mixed reactions from members of the public.
Speaking to Kenyans.co.ke on Sunday, December 27, 2020, Wairimu recounted how her son was taken from her and she was prevented from seeing him by the child's father. She announced that she had only managed to see her son three times in 2020.
Wairimu said she and her then-husband lived in Nairobi and that a separation occurred between the two of them after they retired to their country house in Lanet for vacation in December 2019.
File photo of Lucy Wangui Wairimu.
She attributed her suffering to a time when she and her sister-in-law were assigned chores and her then-husband asked her to do an additional duty.
"I remember his father came back from the operation one day and there were visitors. My ex-husband's youngest sister and I had all chores and had to do everything. We were so tired and I remember being his sister Said we should rest because we went to anything even after the visitors left.
"In the evening he came and asked to have his clothes washed. I asked why he hadn't brought them early and besides, I was so busy. He got angry that I refused," said Wairimu.
At the end of that day she went to live with her grandmother in Nakuru.
"The next morning he came to quarrel with my grandmother. He was so angry and said he didn't want anything more to do with me. Then he said he would return to Nairobi and go with my son."
"When I asked him why, he said that he paid Maina's school fees for two semesters. I didn't understand the logic, but you see all the time that I knew that the only reason we were arguing was is that I refused to wash his clothes. The whole time I thought we were going to make up, "she added.
After a while, the husband visited Wairimu's house, accompanied by his sister and her son, whereupon he repeatedly told her grandmother that she was mentally ill. And after a tense argument, they left.
Wairimu said she remained troubled by the fact that he kept calling her a madwoman. She revealed that the problems between them worsened on December 26, 2019 when he failed to return their calls.
By January 2020, their relationship had deteriorated and she was trying to get her clothes out of her ex's house. The whole time he forbade her to be with her son. He had also blocked her cell phone number, so she couldn't reach him on the phone.
"Before the outbreak of Covid-19 in April, I asked him if I could see my son in the meantime. At first he said yes. Later he told me that I had gone out on them and therefore could not see my son," said Wairimu.
"I asked him if we could be reconciled and he told me I was the only person he hates the most in this world. Then I asked if I could see my son on vacation," she said.
After schools closed due to the pandemic, he brought my son to me. However, he called him every morning and evening and asked if he had eaten, when he would return, they miss him and Wairimu noticed that her son was uncomfortable.
She resorted to taking his son to her uncle, who lives 10 minutes away, so Maina could enjoy the company of other children his age. However, the son's father kept calling and even visiting the child.
When Wairimu came to pick up her son, he asked him to take the child with him. He had declared that if she wanted to stay with Maina, she shouldn't have taken him to stay with her uncle.
"He had an argument with my grandmother and she told him to take the child with him. Then he told me to pack his clothes and give him our son's birth certificate, and so they left," said Wairimu.
She has since been prevented from seeing her son until he offered to see him in October 2020. She informed her grandmother and uncle that she wanted to bring her son, but they did not support her as she did not have a job at the time.
Feeling like she didn't want her son to be brought home, Wairimu forced her to postpone her agreement on equal custody of her son. The ex was upset and contacted her through his lawyer.
Efforts to reach him were unsuccessful and she decided to visit him. There was a rather dramatic encounter between them and they sought justice at the Nakuru Children's Court.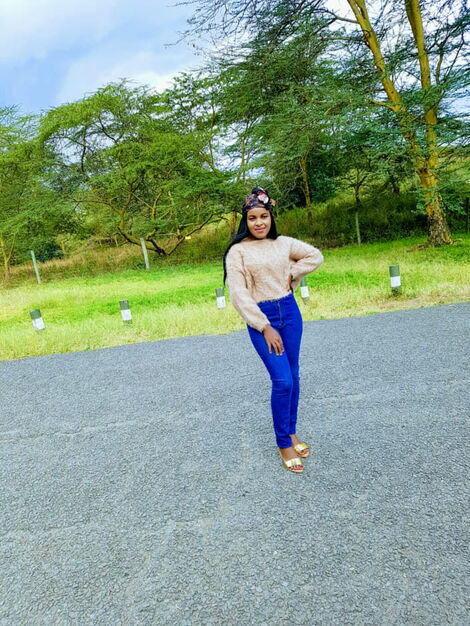 File photo of Lucy Wangui Wairimu.
"I went to the children's offices on December 1st. I saw him talking to a man from the offices and I heard him ask if I had come. He asked why we broke up and when I told him, said so he, he saw it. " No, the reason for the separation and went to call a mediator, "said Wairimu.
She revealed that her ex wasn't interested in reconciling, and when asked why he broke up with her, he gave reasons she thought were petty.
"He said I had mood swings that I was so quiet sometimes and I saw the mediator write everything down. He said that he dedicated his life to me, he always took me out, and the mediator asked if I drink . And I saw him write it down, "said Wairimu.
"She asked me how I grew up, I told her and she wrote it down. Then they asked me to go out before they met for about 35 minutes before calling me," she added.
Wairimu revealed that while she raised her concerns, including the fact that he was a chain smoker at one point, she did not see the mediator writing anything down.
She said the officer told them the formal process was to put her son in a children's home, but she intervened to object since she was raised in one. She got emotional and apologized.
"When I got back from the washroom, I hadn't even sat down. I was told that we weren't the only customers and that Joel will continue to be with our son because I'm incompetent and mentally ill," said Wairimu.
"When I asked how they came to this conclusion, nobody said anything to me. I got emotional and passed out.
"When I woke up I saw them talking and asked if I could see my son and they told me I could. However, when I tried to call him the next day, I was blocked," she added.
She revealed that she had been asked by the officer to support the child while the father stayed with him as he was unemployed. Wairimu said the officer ruled in favor of the child's father because she said she was now employed and would take her son to a daycare while she was working.
The ex had countered, arguing that he would not let his son go to daycare during the course of the Covid 19 pandemic. She has since been denied access to her son.
Ever since Wairimu shared her story on social media, she has been contacted by a lawyer who is willing to help and will file a case in court on December 30th.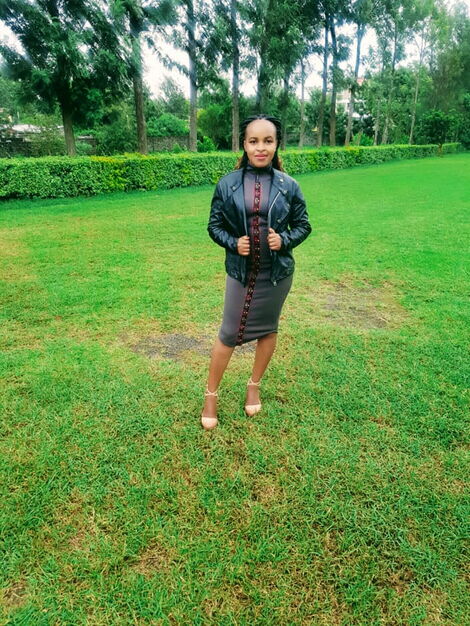 File photo of Lucy Wangui Wairimu.