Breadcrumb Trail links
Local News
Crime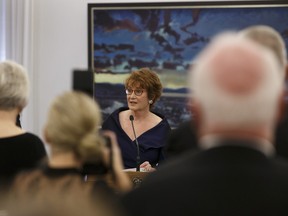 Alberta's Chief Justice Catherine Fraser speaks during the investiture ceremony for the Alberta Order of Excellence at Government House in Edmonton, Alberta on Thursday, October 19, 2017. Fraser retired this summer after 30 years as Chief Justice. Her replacement has yet to be named. Photo by Ian Kucerak /Ian Kucerak/Postmedia
Article content
Alberta Chief Justice Catherine Fraser retired last month after an "unprecedented" career on the bench. Fraser served in the role for 30 years, the first woman to hold a chief justiceship in Canada.
Advertisement 2
This advertisement has not been loaded yet, but your article continues below.
Article content
Postmedia asked Fraser about her time on the court, a period which saw six prime ministers and eight Alberta premiers come and go. The interview has been edited for length and clarity.
By clicking on the sign up button you consent to receive the above newsletter from Postmedia Network Inc. You may unsubscribe any time by clicking on the unsubscribe link at the bottom of our emails. Postmedia Network Inc | 365 Bloor Street East, Toronto, Ontario, M4W 3L4 | 416-383-2300
Thanks for signing up!
Article content
How do you think 'The Law' changed while you were Chief Justice?
Short answer: lots.
Longer answer. The law includes statutory law, the common law and constitutional law. The law changes in response to changing social values, needs and priorities, often expressed by the community. The legislative and executive branches of government make changes in the law through statutory reforms. Others are made by the judiciary. Judges both interpret the law and make law. Quite apart from the judicial law-making role under the common law, judges have a significant law-making role as interpreters of the rights and freedoms under the Canadian Charter of Rights and Freedoms.
Advertisement 3
This advertisement has not been loaded yet, but your article continues below.
Article content
Some of the most significant changes in the law in the past 30 years have been because of the Charter and the judiciary's interpretation of what constitutionally guaranteed rights mean. To take a few examples only, judicial interpretation of the Charter has had a profound impact on the criminal law and the rights of the accused; on civil liberties and the scope of protected rights such as freedom of expression and religion; on equality rights and the scope of those protected; on collective rights and the scope of those entitled to bargain collectively; and on language rights and how far governments must go in protecting those rights.
Beyond the Charter, changes in other areas of the law have been equally substantial. Example: family law and the implementation of child support and spousal support guidelines. Another example: Aboriginal law and defining what is meant by Aboriginal and treaty rights guaranteed under Section 35 of the Constitution and the consequential responsibilities that federal and provincial governments have to First Nations.
Advertisement 4
This advertisement has not been loaded yet, but your article continues below.
Article content
The law today is much more complicated than when I was appointed Chief Justice. In part, this is a product of greater knowledge and understanding of what we all should do to fully respect one another as individuals and as members of groups. One great achievement has persisted throughout and has made it possible for societal changes to occur with peace, equality and prosperity. That is the rule of law. We build on it and prove its irreplaceable value to our lives and country every day.
Is there an accomplishment you're most proud of?
I will always consider my appointment as Chief Justice of Alberta and Chief Justice of the Northwest Territories and Nunavut Courts of Appeal the greatest honor of my life.
I am pleased that judicial education on social issues, including equality, is now a key part of the education of judges in Canada. That was not always so. One of my initial priorities as Chief Justice was to ensure it was. I advocated for social context education for judges — and three words to define its scope. For me, that education could not be anything less than in-depth, comprehensive and credible — and credible meant credible in the eyes of the community, not only the judiciary. This education, endorsed by the Canadian Judicial Council, has had a positive impact on people who have suffered unfair treatment.
Advertisement 5
This advertisement has not been loaded yet, but your article continues below.
Article content
COVID was a strain on the courts — how do you think the system has fared during the pandemic?
Generally, the justice system struggled across Canada. Backlogs increased. The pandemic has exposed fundamental flaws in the justice system. As essential services, the courts cannot fail. Unless steps are taken to address obvious needs — most courts in this country are not electronic — identified problems will continue.
Moreover, while the Supreme Court has now mandated time limits for criminal cases, no such deadlines exist for civil cases. Thus, civil cases are at increased risk for longer delays. It's like waiting at a bus stop but every bus that comes along is full.
On the positive side, courts — and the governments that provide the funding for the third branch of government — were forced to take immediate steps to implement virtual hearings. Expanding the reach and transparency of the functioning of the courts through technology is unquestionably progress.
Advertisement 6
This advertisement has not been loaded yet, but your article continues below.
Article content
Considerable work remains though on the virtual hearings front. That includes improving equipment, such as cameras and sound systems, required for more operationally effective virtual hearings. The more closely virtual hearings approximate in-person hearings, the greater the likelihood for public confidence in their continued use where appropriate.
I am proud of the way the Alberta courts have functioned during the pandemic.
Some said your appointment as Chief Justice would result in courts being more responsive to women's issues. Can you point to ways in which that happened?
The composition of the courts and the legal profession have changed dramatically. When I graduated in law in 1970, there had not even been one woman appointed to a superior court in Alberta. I could never have imagined that only 22 years later, I would be appointed Chief Justice of Alberta. Women now make up almost 45 per cent of all federal government judicial appointments.
Advertisement 7
This advertisement has not been loaded yet, but your article continues below.
Article content
Who is in law school, practice and on the bench matters. Decades ago, Justice Bertha Wilson posed the question: "Do women judges make a difference?" There is no doubt that, overall, the presence of women on the bench — and equally important, at the bar — has made a positive difference. A few examples only where considering women's perspectives has changed the law: sexual harassment; sexual assault and other forms of violence against women; pay equity; self defense; reproductive rights; matrimonial property; child support; indeed, all family law.
Soon after I was appointed Chief Justice, I set up a seven-person panel to address the issue of child support. In 1994, the Court issued two judgments which set out child support guidelines for Alberta judges. Those guidelines resulted in awards notably higher than in most other jurisdictions. In 1997, the federal government issued Federal Child Support Guidelines. The end result was uniformity across Canada and higher child support awards overall for Canadian children.
Advertisement 8
This advertisement has not been loaded yet, but your article continues below.
Article content
The law now recognizes that formal equality is not equality for all purposes and that sometimes, to treat people equally, we must treat them differently.
The criminal law has changed in several significant ways to recognize the perspectives of women. For example, on sexual assault, where the vast majority of victims are female, there has been a shift from "no means try harder" to "no means no" and to "only yes means yes."
Do you have concerns about political interference in the courts?
No, I don't. We are fortunate to live in a democracy where governments recognize how critical the separation of powers and the rule of law are to our democratic society. The legislative and executive branches of government accept that they will not always be able to do what they want. Sometimes what they want may not conform to the paramount law, Canada's Constitution.
Advertisement 9
This advertisement has not been loaded yet, but your article continues below.
Article content
Judges have a constitutional duty to defend the rights and freedoms and division of powers entrenched in our Constitution. As a general principle, it is the courts that make the final call on the law that binds us all. Government is required to respect these decisions in accordance with one of the fundamental tenets of democracy, the rule of law. Government also understands that if the public does not have trust and confidence in an independent judiciary, people will not accede to the rule of law. And without the rule of law, all is lost.
The rule of law is not invulnerable. It is always under threat. We all have a role, as citizens, in preserving our democracy.
Share this article on your social network
Advertisement 1
This advertisement has not been loaded yet, but your article continues below.
Comments
Postmedia is committed to maintaining a lively but civil forum for discussion and encouraging all readers to share their views on our articles. Comments may take up to an hour for moderation before appearing on the site. We ask you to keep your comments relevant and respectful. We have enabled email notifications—you will now receive an email if you receive a reply to your comment, there is an update to a comment thread you follow or if a user you follow comments. Visit our Community Guidelines for more information and details on how to adjust your email settings.